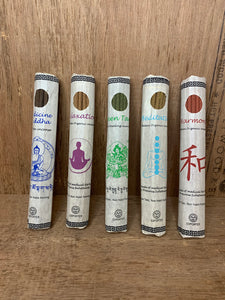 Made of medical herbs & precious substances.
Non toxic, non habit forming.
Great for Puja, Daily Offering, Purification or used as Air Freshner.
Each pack contains approx. 70 gr. or 30 sticks.
Made in Nepal.
Meditation - The Meditation incense blend ids in building mental strength, clarity and life force energy, as also in achieving deep states of relaxation, patience and compassion.
Green Tara - The unique and high quality incense is exclusively prepared for a special offering or choed-pa to Tara, the compassionate mother lord of wish fulfillment. Bring you good luck, happiness and prosperity.
Medicine Buddha - The high quality incense is made of the finest ingredients and based on a combination of herbs, flowers and resins from Nepal and Tibet. This incense protects you from illness and brings positive action, relief stress, relax and refreshes mind and body from daily pressure. 
Harmony - These incense promote peace, harmony, clairvoyance, concentration and relaxation. This incense helps purify one's mind and enchances protection.
Relaxation - This high quality incense contains herbs and trees from the Himalayan area of Nepal. It refreshes relaxes and uplifts the mind, prevents sluggishness, fatigue and promotes good energy.