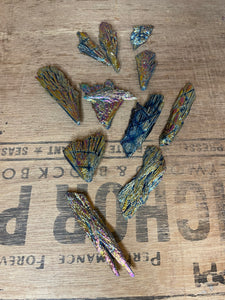 We pick one beautiful stone for you. One stone ca. 6-8 cm.
Rainbow Aura Kyanite slice with raw edges that highlight the natural beauty of Kyanite.
Insight, uplifting, grounding and boosts energy.
All Aura Kyanite Crystals begin as black Kyanite, which undergo a superheating process where the Crystals are coated with metallic vapors from different metallic coatings. Rainbow Aura Crystals are the result of a special mixture of Titanium and Platinum atoms fusing to the stones surface, which provides the immersive rainbow iridescence.