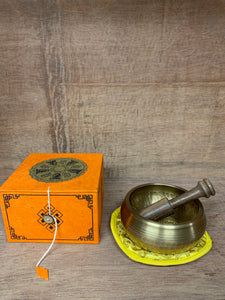 A beautiful Five Dhyani Buddha singing bowl gift set.

These lovely gift boxes come complete with singing bowls, cushions, and stick all packed in a Yellow Gold box with Dhyani Buddha Print.

Hand-Hammered singing bowl.

Inside the bowl's center is an embossed image Five Dhyani Buddha

Material Brass.
ca. 10,16 cm

Color of cushion may vary.