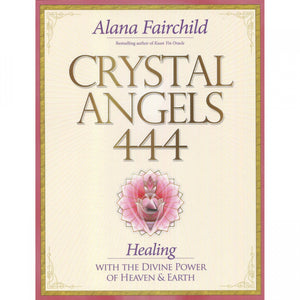 Crystal Angels 444 (Book) by Alana Fairchild
Information:
 368 pages, paperback
Blurb on the Back Says
In Crystal Angels 444, Alana Fairchild, author of the bestselling Kuan Yin Oracle, offers a truly unique approach to crystal healing, combining the natural healing properties of each crystal and its 'crystal angel' or 'spirit' with divine guidance channelled from heavenly angels such as Archangels Raphael, Gabriel, Metatron & Melchizedek. Together they help you bring your spirit and body together as one and live with more peace and prosperity, passion and purpose. Each chapter deals with a powerful precious stone and its heavenly angel and features a range of sacred rituals & processes to help you fully harness the healing potential of that stone, deepen your connection with yourself and the divine guidance supporting you and tap into the many gifts hidden within you.
You will delve deeply into a variety of topics including love, power and protection, eating and body image, self-esteem, addiction, feminine/masculine balance, wealth and prosperity, connecting with divinity, speaking your truth, dealing with your emotions, developing your spiritual talents and much more.
The book is enriched with many personal stories and spiritual experiences from the author which offer practical examples to bring the material to life.